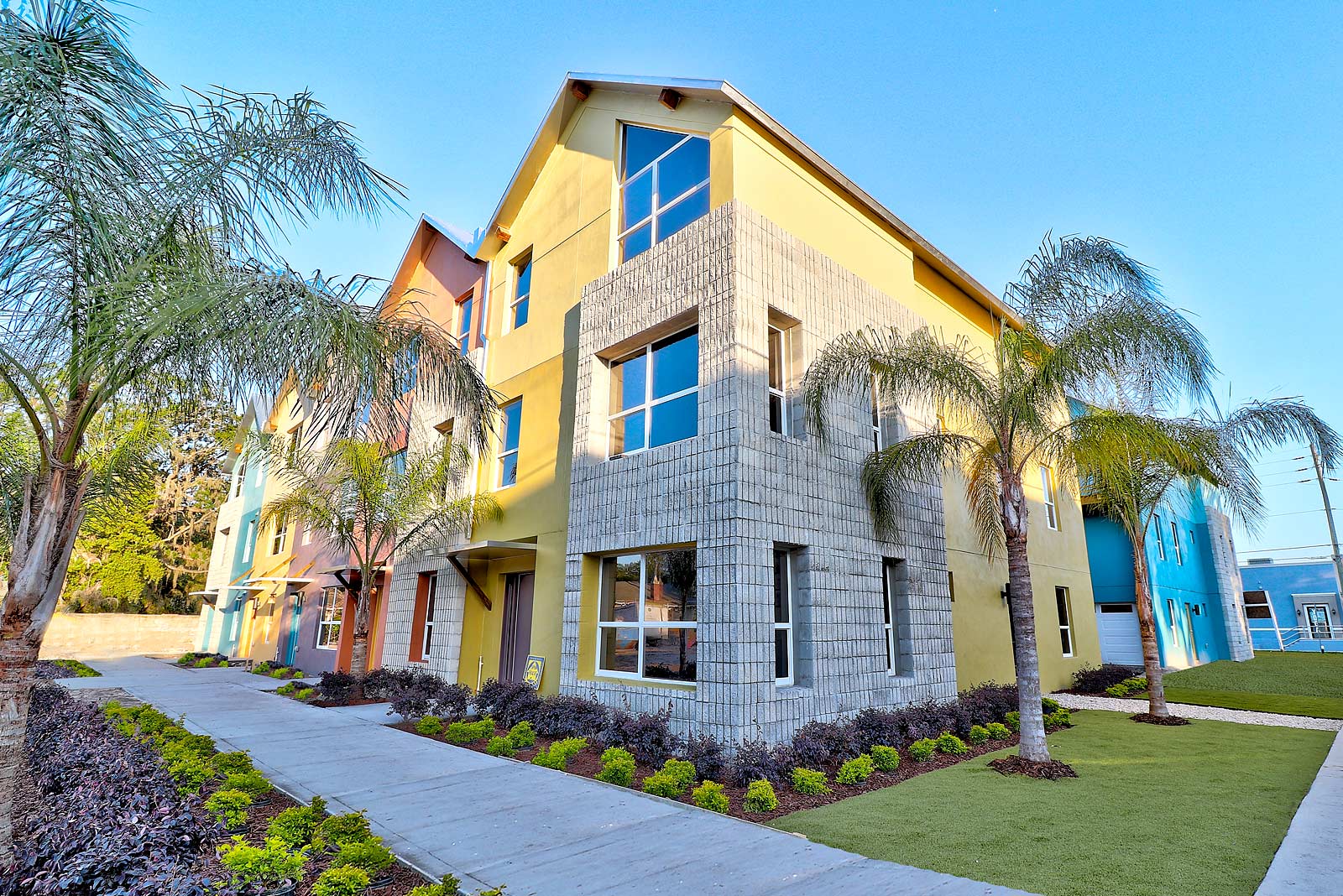 Modern Orlando Living, Right in the Heart of downtown.
Fern Creek 20 townhomes are for those with distinctive taste looking for a unique residence in Downtown Orlando.
Scandinavian-inspired architectural design with a modern interior of concrete, metal, wood, and steel.
Buyers can choose from three floor plans offering first, second, or third floor living and an elevator if they so desire.
Everything else included is a given offering a style that the Orlando market has never seen before.
Model opens in May 2018. Now offering, for a limited time, residences at pre-construction pricing below market value.
Only TEN units left! Phase 2 begins in Spring 2018. Get on our list to reserve!
View Our Three (3) Floor Plans
"I have watched and seen Mark Kinchla's creative energy over 17 years and multiple projects in Downtown. I thought his conversion/resurrection last year of the 1928 historic church he called "Samsara" was the epitome of his talents but from what I see Fern Creek 20 seems to tip the scale of Kinchla's talents. We need more of this in Downtown."
-Timothy Huskins, REALTOR & Investor
"I have worked with Mark since he did his first townhouses in 2000 in downtown Orlando. Then, as now, he pushed for creative designs that pull and tug others to think differently. He constantly challenges me to ramp up my creative juices and think outside the box, even at age 70 with 45 years as a designer under my belt."
-Thomas Stahl, Designer
"When the hurricane winds blow through Downtown, Fern Creek 20 will stand up to the test with all concrete walls, floors, and net zero metal insulated roof panels. Mark Kinchla is innovative and always looking to do things "differently." Over my 40 years, I haven't had many clients that dictate the design like Mark does."
-Stanley Hoelle, Architect
"Some developers just get it as far as leaving a legacy behind which Mark Kinchla has achieved with multiple examples in Downtown. Having worked with Mark for over 25 years, I have experienced building projects that stand apart from the rest. Fern Creek 20 is another example of Mark's efforts to transcend a neighborhood with something we can all be proud of."
-Robert C. Dietz, General Contractor
Address
1603 Woodward Street, Orlando, FL 32803
Location
On N. Fern Creek Avenue, just one block north of Colonial Drive. Blocks from Lake Eola, Downtown, and Mills 50 Arts district. Close to Florida Hospital, Winter Park, Baldwin Park, Audubon Park, and Milk district.
Recently Completed & Upcoming Projects
Let's Get In Touch
Contact us today to get more details on the Fern Creek 20 Project